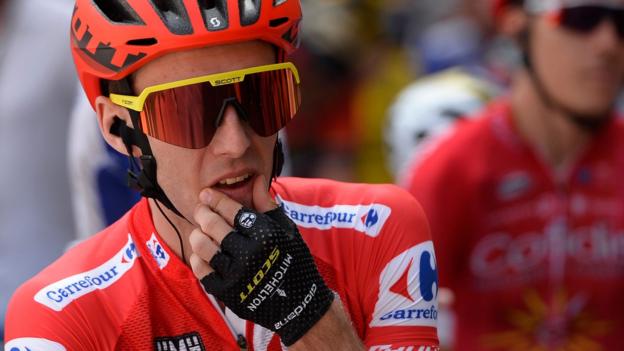 Britain's Simon Yates says that despite winning the Vuelta a Espana on Sunday he will never be a superstar – and that it is fine by him.
The 26-year-old Michelton-Scott rider crossed the line safely in Madrid to complete a clean sweep of British victories in this year's Grand Tours.
He missed out on the Giro d'Italia in May despite having led for 13 days but has now secured his first Grand Tour.
"I never really truly believed the win would arrive," he told BBC Sport.
British riders have now won nine of the past 20 Grand Tours, a run that started when Sir Bradley Wiggins became the first to win one with victory in the 2012 Tour de France.
Only twice before have riders from the same country won all three races in the same season, but this is the first time it has been done by different cyclists – Chris Froome winning the Giro d'Italia and Geraint Thomas the Tour de France.
And Yates' victory will be the fifth Grand Tour triumph in a row for Britain, with Froome having also won last year's Tour and Vuelta.
Speaking to BBC Sport's David Ornstein, Yates said the victory had yet to sink in.
"I've had so many setbacks," he said. "I guess those setbacks also really give you the motivation to keep plugging away, keep trying to just pull it off.
"Even in the final day there in Andorra I really didn't believe that I could do it. I have been second many, many times, just missing out. We were really focused just to cross the finish line, really complete the job well and it was just an unbelievable journey."
Asked whether the success would make him a household name, he said: "Cycling is still a small sport in the UK. We have had many successes now but if you compare it to football or any other sport it's still a small sport.
"I don't think I'll ever be a superstar – but that's fine by me because that's not my character. I'm quite a laid-back guy, I like to relax on my own.
"I really just want to celebrate this victory first. This is the first Grand Tour for the team – it's a really historic moment."
He said he hoped his twin brother Adam, who also rides for Michelton-Scott, can win a Grand Tour in the future.
"I have full confidence that he will get there eventually," he said.