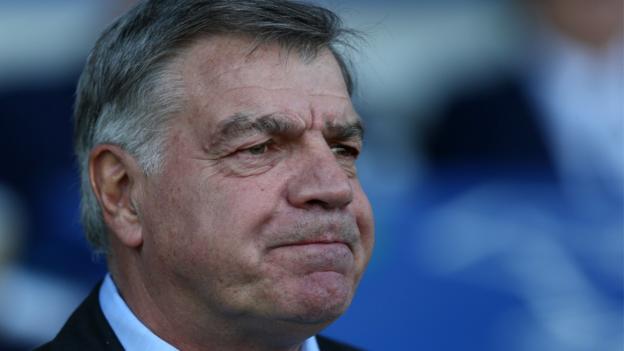 An undercover investigation that led to Sam Allardyce's exit as England manager after 67 days was justified in the public interest, a report has found.
Allardyce left the England job in 2016 after the Daily Telegraph said he told reporters posing as businessmen how to "get around" player transfer rules.
The 63-year-old lodged 25 complaints about the story with the Independent Press Standards Organisation (Ipso).
Ipso found in the paper's favour on 22 of those points.
Allardyce said that the level of subterfuge employed by the newspaper in its "Football for Sale" investigation had been unjustified and that it had published its findings in an inaccurate and misleading way.
Ipso's complaints committee found that the Telegraph's coverage was "generally accurate" but that the paper had breached the Editors' Code on three specific points.
Allardyce was being filmed as part of a 10-month Telegraph investigation that separately unearthed evidence of bribery and corruption in British football.
The former West Ham, Blackburn and Everton manager claimed that the Football Association was too hasty in deciding he had breached his contract and that "entrapment won".
Of the three complains upheld by Ipso, one related to a suggestion Allardyce had implied third parties could benefit from transfer fees, which was not true, and two wrongly implied Allardyce had offered to tell the Telegraph's reporters how to break ownership rules. The Telegraph will publish a correction on Thursday.
However, Ipso ruled that the Telegraph's use of subterfuge was justified.
What did Allardyce do?
In September 2016, Allardyce was filmed telling undercover reporters it was "not a problem" to bypass rules on third-party player ownership and claimed he knew of agents who were "doing it all the time".
Third-party ownership – when someone other than the buying and selling club owns a stake in a player, typically an investor – has been banned by the Football Association and world football's governing body Fifa.
It is a practice that has been described as a form of "slavery" by Michel Platini, the former president of European football's governing body Uefa.
The Telegraph investigation claimed that a £400,000 deal was struck for Allardyce to represent the Far East organisation for which the reporters claimed to work, and to be a keynote speaker at events. Allardyce, though, stressed to the reporters he would first have to "run that by" his employers, the FA.
Allardyce also made fun of predecessor Roy Hodgson's speech by referring to him as "Woy", as well as criticising Gary Neville, one of Hodgson's assistants, and making comments about FA president Prince William. He described another member of the Royal Family, Prince Harry, as a "naughty boy".
The important elements of the complaint
The complaint made by Allardyce – along with his "financial adviser" Shane Moloney and his agent Mark Curtis – related to 15 articles published over six days, including news reports and comment pieces, which formed part of the newspaper's 10-month "Football for Sale" campaign, which it described as an investigation into "corruption in English football".
The complainants denied any prior wrongdoing which could have justified the subterfuge and said the publication of "serious and false claims" had grave consequences.
However, the Daily Telegraph said the level of subterfuge – which included hidden cameras and microphones and its reporters posing as businessmen from a fictitious company – had been essential to its investigation and that its actions were warranted and proportionate.
The paper said that, in spring 2015, an individual, who the newspaper had considered to be a credible and reliable source, had made a number of serious allegations against football managers, including Allardyce, and these allegations were later repeated by other sources, justifying further investigation.
Allardyce's reaction to the ruling
In a statement, Allardyce said: "Had the FA stuck to their word and waited to see the Telegraph's evidence (as they originally told me they would) they would have seen the allegations made against me were false.
'It was of course the allegations about third-party ownership (TPO) that the FA stated were the reasons for my leaving. I will consider my position in this regard with my lawyers but I hope Martin Glenn [FA chief executive] and Greg Clarke [FA chairman] reflect on the lack of leadership they showed — not for the first time or I expect the last."
The statement added: "Following a complaint made in November 2016 Ipso has now found (and stated that the Telegraph should make clear) that I did not suggest a model by which a third party could benefit from sharing in a player's transfer fees; did not brief reporters on breaking the rules; and did not enter negotiations to provide guidance on how to get around rules on TPO.
"Ipso also found that the articles made no accusation of corruption against me and the Telegraph confirmed it made no such allegation."
Analysis
Dan Roan, BBC Sport editor
Both sides in this dispute will hail this as a victory.
The Daily Telegraph will see this ruling as a qualified vindication of its journalism, with its use of subterfuge and secret filming crucially backed by Ipso. Its Complaints Committee found the coverage was generally accurate, and the investigation was justified in the public interest.
However, the fact that key inaccuracies in the paper's reporting have been identified, with Ipso concluding that the proposal set out by Sam Allardyce "would not have resulted in the rules being broken", means the former England manager can also claim to have won.
Significantly, this could also have an impact on his legal action for damages against the Football Association. In 2017, it was revealed that Allardyce was suing the governing body for the way it handled the fallout from his sacking as England manager in 2016.
He has always maintained the FA were too hasty in deciding he had breached his contract, and panicked in case further articles by the newspaper would further implicate him. That fear was unfounded however, and this ruling could strengthen Allardyce's resolve, and improve his chances of success.
The Telegraph's statement
"On the major issues raised by Mr Allardyce, Ipso found for the Telegraph. It upheld our right to use subterfuge and secret filming, since there was a strong public interest in investigating and it was reasonable for the Telegraph to have believed that it could only obtain material evidence through subterfuge.
"Additionally, Ipso found that while it could not be demonstrated that Mr Allardyce had broken any Football Association rules, he appeared to show disregard for them and had spoken disrespectfully about them to people he had only just met. Further, although any intention of achieving any improper benefit was denied, he had explained a model that could reasonably be understood to result in a third party benefitting from a player's transfer from one team to another.
"Save for three inaccuracies, two of which were contained in two comment articles, Ipso found that the coverage of the investigation was not in breach of clause one of the Code. The correction it has required the Telegraph to publish appears in our usual 'Corrections and Clarifications' spot today [Thursday]."