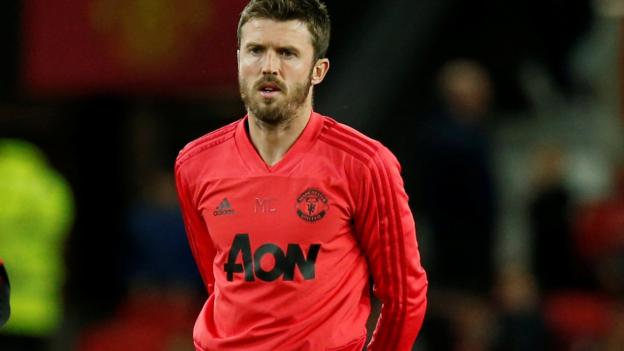 Michael Carrick says he has been contacted by fellow players saying they have experienced the same depressive-like emotions the former Manchester United and England midfielder outlined in his autobiography.
It took Carrick two years to recover from a huge low that was triggered by defeat to Barcelona in the 2009 Champions League final in Rome.
Speaking to BBC Sport, the 37-year-old said: "The fact some people have been in contact makes me glad I came out and said what I did."
Carrick retired in June to take up a place in United manager Jose Mourinho's coaching team.
He added: "If someone wants to speak to me, I will try and help them.
"Even if it helps someone else without me even speaking to them, it is a bonus."
'We are not all machines'
Even long-standing Old Trafford colleagues were unaware of how badly Carrick had been affected until the serialisation of his book 'Between the Lines'.
Defeat in Rome, when United had started favourites and expected to become the first club to win the Champions League in successive seasons, was compounded by a loss of form in the following campaign.
He was still selected in England's World Cup squad for South Africa but his involvement was limited to 45 minutes as a substitute in the first warm-up game against Mexico at Wembley, leaving him feeling isolated and alone at a remote training base in Rustenburg.
Carrick said: "That was the worst time. The deepest bit. Miserable is the word. It wasn't a great place, miles away from anywhere. We played a little bit of golf and went on one safari but the environment wasn't stimulating.
"I didn't even think I would be going because I was miles away at United.
"We are not all machines. Everyone has tough times."
Too shy?
Although he recovered from a heart complaint that prevented him from playing for four months until January this year, Carrick decided last season would be his last.
He finished with five Premier League titles – the same number as John Terry – a European Cup and 464 United appearances, putting him 16th on the club's all-time list.
Yet his 34 England caps were less than a third of those won by Frank Lampard and Steven Gerrard.
Sir Alex Ferguson felt Carrick was better than both, saying he failed to be recognised because he did not have the same public profile and was on the shy side.
Carrick said: "The question doesn't make sense really. You are there to play football aren't you?
"I am laid back off the pitch but on it, if anything, I was too much the other way.
"I know exactly what you are saying and that is the way the world works. But really, no matter what your personality is, you should be judged on whether you are good enough or not."
Following Lampard and Gerrard
Ironically, Carrick is in the slipstream of Lampard and Gerrard once more.
As he works his way through the difficulties Manchester United are experiencing this season and learns at close quarters from Mourinho and his staff, Lampard and Gerrard are branching out on their own.
Carrick is interested to see how the pair get on at Derby and Rangers respectively, believing his own chances of getting a job will improve if they are successful.
He said: "People clamour for foreign coaches or foreign players because they think the grass is greener. It takes an English manager to come through to make people think 'that might work'.
"If the lads who have been given their opportunity do well. I am sure it will rub off. It won't necessarily be me but, without realising it, clubs will start going down that route."
'You should never be satisfied at Manchester United'
Carrick refuses to put too much pressure on himself, believing he still has far too much to learn to take a career in management for granted.
He is also applying the same approach to Manchester United's present predicament.
The Newcastle-born player, who emerged from the famous Wallsend Boys Club before heading to West Ham as a 15-year-old, has noticed some fans and pundits "licking their lips" at the thought of United being in difficulty.
Life post-Sir Alex Ferguson has been very different for Carrick, who won five Premier Leagues in his first seven seasons at the club and missed out on the other two by a single point and goal difference respectively.
Nevertheless, he remains convinced the club can become challengers once more.
He said: "It is always about what happens next and for us that is two massive games against Chelsea and Juventus.
"My desire to help United get back to the top burns deeper than ever.
"Regardless of the situation this club has to strive to be the best all the time. How long it takes I don't know but you should never be satisfied at Manchester United."