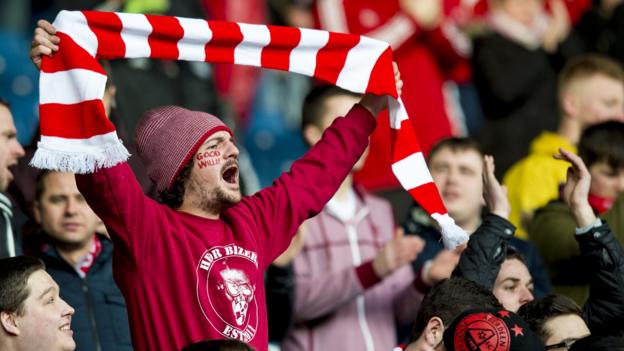 Hearts and Aberdeen say they are "astonished" and "appalled" after it was confirmed that both Scottish League Cup semi-finals will take place at Hampden on the same day in October.
Aberdeen meet Rangers at 12:00 GMT on Sunday, 28 October, before Hearts play Celtic at 19:45 in Glasgow.
The Scottish Professional Football League say it is "the best and most practical solution".
That is because both Old Firm clubs have Europa League games on 25 October.
The SPFL cite a contractual obligation to play the matches at Hampden unless otherwise recommended by the police.
Hearts owner Ann Budge said she asked the SPFL if they could be released from that deal given the "very special circumstances", but was told a formal request to Hampden's authorities had been unsuccessful.
She added that the Tynecastle club have "serious concerns" that it "is not in the best interest" of the game.
Aberdeen, meanwhile, say they have "repeatedly asked" for the authorities to stop giving them "completely unacceptable" kick-off times.
'Supporters are not taken into account'
During talks on Thursday between themselves, the SPFL and the four clubs, Police Scotland advised the Aberdeen v Rangers game should be played first.
Aberdeen say they "appreciate" that view, but believe "other options should have been investigated further".
The Pittodrie side have been unhappy with numerous lunchtime trips to the central belt, including their journeys to Kilmarnock and Hampden Park in late 2016.
Aberdeen is around 150 miles from Glasgow and the first train between the two cities on that Sunday arrives 14 minutes after kick-off.
The club statement read: "Yet again, what should be a showpiece occasion is scheduled to start at a time that does not take supporters into account."
Aberdeen say that holding the semi-finals on consecutive weekends was an option, with Celtic due to face Hearts in the Premiership a week later.
"We appreciate the authorities have a difficult job to schedule games in what is an extremely congested calendar," the statement continued.
"But to yet again ask our supporters to be in Glasgow for a 12:00 start on a Sunday is, quite frankly, appalling."
'We're making it impossible for fans'
Budge, meanwhile, said she attended the meeting "confident that the games would be scheduled for different venues… or if not, for different days".
The Hearts owner said assurances were given by both Police Scotland and Hampden Park that they could "manage the demands" of the two games.
However, she said she made it clear she was "far from happy" given the difficulties it would cause to fans of all four clubs.
"At a time when Scottish football is thriving we should be doing all we can to encourage fans to come along… not make it difficult or even impossible," she said.
Budge added that she "does not believe the plan can/will be changed" but insists Hearts will "remain in dialogue with the SPFL".
Police happy but raw deal for Dons' – analysis
BBC Scotland's senior football reporter Chris McLaughlin
Police Scotland are quite happy with this solution and say they can handle situations like this, but you've got over 100,000 fans in Glasgow on that Sunday.
Not only that, but if the first game goes to extra time and penalties, you've only got a few hours to get rid of 50,000 fans and get another 50,000 in. I think everyone – the SPFL, Police Scotland, probably the clubs – will be hoping everything is settled in 90 minutes in the first semi-final.
It's always tricky for Aberdeen fans. As it stands, the first train out of Aberdeen to Glasgow that Sunday arrives at 12:14. That's not going to work. They're going to have to think of a way of getting the fans down. You have to feel sorry for them – geography, once again, has played its part in giving them a raw deal.