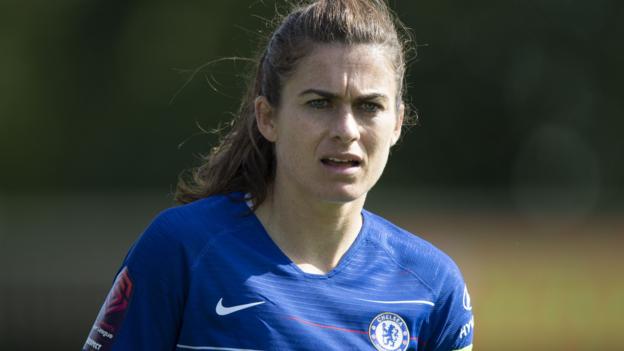 Warning: Some readers may be offended by the content in this article
The Football Association has urged police to tackle abuse on social media after rape and death threats were made to England midfielder Karen Carney.
Chelsea's Carney, 31, received the messages on Instagram after Wednesday's Champions League win over Fiorentina.
The user has been removed from Instagram, with the FA saying it is "appalled" and "dismayed", but Carney will not be reporting it to police.
England boss Phil Neville described the messages as "absolutely disgraceful".
The posts began: "How many chances you need to score in second half bitches" before making rape and death threats.
It is understood the user is not known to Carney, who wrote "wow, some people…" in response to the messages.
"The FA takes such matters extremely seriously," said an FA statement. "The abuse of players on social networking sites is a serious concern and we call on the police and social media organisations to do everything they can to help tackle this growing problem.
"We provide all our senior England players with training, guidance and support on the use of social media and treat our duty of care in this regard with the utmost importance."
Carney has won 133 England caps since making her international debut in 2005.
A spokesperson for Instagram told BBC Sport: "We do not tolerate threatening or abusive behaviour, and the account that sent these messages has been removed from Instagram.
"We encourage anyone who sees content of this kind to report it via our in-app tools and our global team work 24/7 to review and remove anything that violates our Community Guidelines."