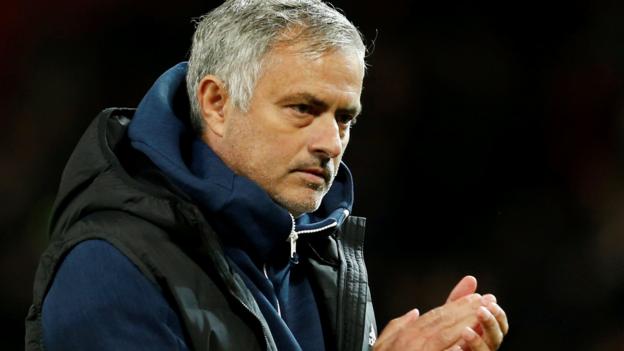 Former Arsenal defender Martin Keown says that Manchester United manager Jose Mourinho "seems to be at war with his players" after the Carabao Cup defeat at home to Derby.
Mourinho has told Paul Pogba that he will not captain United again, but insists that they have not fallen out.
"Jose seems to be at war with his players and he needs to start seeing the good in what they do," Keown told BBC Radio 5 live.
"Is he pulling up the handbrake?"
Pogba watched on from the stands as Derby, managed by Frank Lampard, knocked United out in a thrilling shootout.
The defeat came three days after a draw at home to Wolves which left Mourinho's side eight points behind leaders Liverpool in the early-season Premier League table.
"Everyone in the media is quick to turn this into a massive crisis," added Keown.
"Manchester United have had some good away results but suddenly they're not able to win at home. I don't enjoy seeing them not being competitive.
"Mourinho has said the pundits on the sofa have got too much to say. One of them, Frank Lampard, has proved him wrong. It's a great scalp.
"This was a really good United team and I can't think of many bigger shocks in their history. Mourinho tried to go for it and he'll be hurting in the dressing room."
'When it gets to Jones we are in trouble'
United made nine changes from the draw with Wolves but still fielded 10 internationals and took an early lead through Juan Mata.
But they needed a stoppage-time equaliser from Marouane Fellaini to take the tie to a shootout, which was lost when Phil Jones became the only player to miss.
Mourinho said: "Penalties come and someone has to miss, once you go to the sixth or seventh penalty I knew we were going to be in trouble with Jones, with Eric Bailly.
"I never blame a player for missing a penalty. When it goes to Jones, or Eric Bailly then we are in trouble."
Lampard, who won two Premier League titles under Mourinho at Chelsea, has now steered his side to eight wins in his opening 12 games in management.
"I'm shell shocked. What a performance," he said.
"To go down early at Old Trafford and play as well as they did was superb. We had the personality to take penalties and play the way we did. I am a proud manager.
"I am trying to build a group to be successful and nights like this are incredible. To go against world-class players and play that way, it's right up there [with the best nights of my career]."
What's coming up for United?
Mourinho's side are up first in Premier League action at the weekend, travelling to London on Saturday to face an improving West Ham (kick-off 12:30 BST) side who have picked up a victory and a draw in their last two games after a shaky start.
A tricky October sees Champions League fixtures at home to Valencia and Juventus, while they also travel to Mourinho's old side Chelsea in the month, as well as Old Trafford visits from Newcastle and Everton.
United's next six fixtures are:
29 September: West Ham, Premier League (a)
2 October: Valencia, Champions League (h)
6 October: Newcastle, Premier League (h)
20 October: Chelsea, Premier League (a)
23 October: Juventus, Champions League (h)
28 October: Everton, Premier League (h)
Sacked in the morning? Social media reaction
Robert Burke: United are a mess at the moment. We have the players, top tier players in almost every position, problem is the management, the atmosphere of the club and the team spirit.
Dpshlon: Mourinho will destroy Manchester United's heritage if he stays any longer, he should be sacked asap.
Shane Hancock: Surely it's time for Jose to call it a day? This is the worst United have been since Moyes, being a pragmatic football manager is a dying breed in football #timetogo.
Josh Edkins: How ironic is it that Lampard, who did so much for Mourinho as a player, could get Mourinho sacked in his first outing against him as a manager?