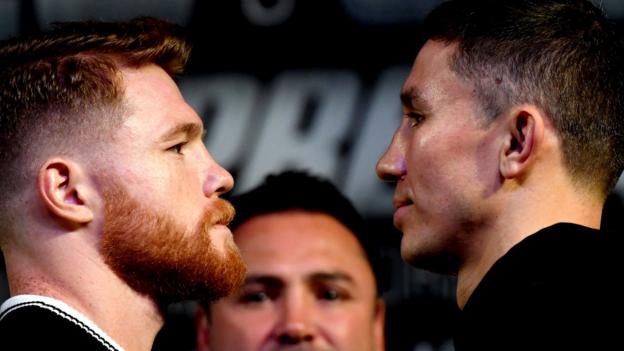 Reporting from Las Vegas
Not so much a fight for the ages as one for the sages.
In terms of skill, class, power and pedigree, there are few – if any – match-ups in world boxing which would bring so much quality to the ring. Add the controversies generated by and after the first fight and the scene is set for the rematch on Mexican Independence Day weekend which reveals much that is compelling and troubling about the sport.
The first fight between Gennady Golovkin and Saul 'Canelo' Alvarez last September was enthralling rather than a classic but a rank-bad scorecard and two failed drug tests by Canelo have introduced an enmity that was missing previously and altered the atmosphere around the fight.
Golovkin has knocked out 87% of his opponents, the highest ratio of any world middleweight champion in history. One of his sparring partners once said the man billed as Triple-G "hits you like you owe him money".
Born in Kazakhstan, Golovkin's pathway was shaped by the break-up of the Soviet Union in 1991, like Wladimir and Vitali Klitschko before him and Vasyl Lomachenko and others later. Earlier generations of brilliant amateurs from the USSR were prevented from venturing into the professional ranks.
Golovkin began his paid career in Germany before relocating to the USA in 2010. His popularity has mushroomed but although he holds the two most recognised versions of the world title at stake on Saturday night (WBC and WBA) it is Canelo who is regarded as the main attraction here in Vegas.
The Mexican was last on to the stage at the final news conference and at the event labelled The Grand Arrivals, a staple of Vegas fight weeks which involves the boxers being shepherded through hordes of fans at the entrance to the MGM Grand Hotel (a property the size of a small town) before traipsing through a few platitudes on stage.
In the hotel's David Copperfield Theatre, kidnapped for fight week to serve as the Media Centre, the huge banner stretching from floor to ceiling right across the stage has Canelo's name on the left hand side. The A-side. Such details satisfy egos and have been known to delay and even scupper fights in the past.
In Mexico, some of Canelo's fights have attracted audiences measured in the tens of millions. Ranked according to the number of world champions a country has produced, Mexico stands second behind the United States.
Canelo talks of a fighting history dating back to his early years on the streets of Juanacatlan near Guadalajara, where his light skin and red hair – said to be traced to French colonists on his mother's side of the family – made for an unusual appearance for a Mexican and he was predisposed to chinning those who chose to mock.
He turned professional at 15 and within two years had completed his first 12-rounder. So much for steady growth. His only defeat in 52 fights was inflicted by Floyd Mayweather five years ago this weekend, although he was adjudged by most at ringside to have lost also against Golovkin 12 months ago.
The scorecard handed in that night by Adalaide Byrd, awarding Canelo the spoils by 10 rounds to two, is high among the most baffling of all time. Of the other two judges, one scored for Golovkin and one made it a draw. The cynics were not slow in suggesting it was all a ploy to guarantee a rematch.
The return set for 5 May here in Vegas was called off when Canelo tested positive twice in a matter of days for clenbuterol, a substance commonly found in asthma inhalers and known for its fat-burning effects.
The Nevada State Athletic Commission banned him for six months, backdated to the time of the offences in February. A top golfer banned for the same period would have missed all four Majors, a leading tennis player two Grand Slams. Canelo, ultimately, has missed zilch with the rematch being rescheduled for this weekend.
Reports here in the States in April indicated that, in an effort to support his claim that contaminated Mexican beef was to blame, Canelo agreed to hair-follicle tests, which can indicate long-term use and which the Commission said produced negative results.
The snag for those keen to shred Canelo's credibility is that cases involving contaminated meat in Mexico are notorious in sport. He accepts he should have done more research – so was he unlucky and is he banking on precedents to help salvage his reputation?
The attitude in boxing to drug abuse has been too lax for too long. The American Justin Gatlin, who has served two doping bans, was booed time and again when he took to the track to win gold in the 100 metres at the world championships in London last year. Canelo is unlikely to face such derision.
Many boxers agree to random testing by Vada (Voluntary Anti-Doping Association) in the build-up to big fights, but the monitoring programme runs only for an agreed length of time during training camps. At other times, in many countries, there is little or no testing.
And a study by the University of Oslo in 2014 revealed how the benefits of some performance-enhancing drugs can be felt for up to a decade – so to refrain during a training camp would not necessarily impair the offender.
Yet, as some have called for Canelo to be locked up and the key thrown away, his promoters Golden Boy Promotions cheerily announced at the final news conference here that the T-Mobile Arena had sold out for Saturday night.
Controversy shifts tickets and, whatever the opposing views, Canelo has served his time.
The rematch offers endless possibilities. A year ago, Canelo won the first two and the last three rounds on all the judges' scorecards. Had he worked Golovkin out by the closing stages? Had Golovkin's power dissuaded the Mexican from trading more frequently until then?
Golovkin threw more punches overall – although surprisingly few to the body – whereas Canelo fought in patches. Each took solid shots without budging, in a manner which suggests the judges will be needed again this time.
And we're overdue a trilogy…