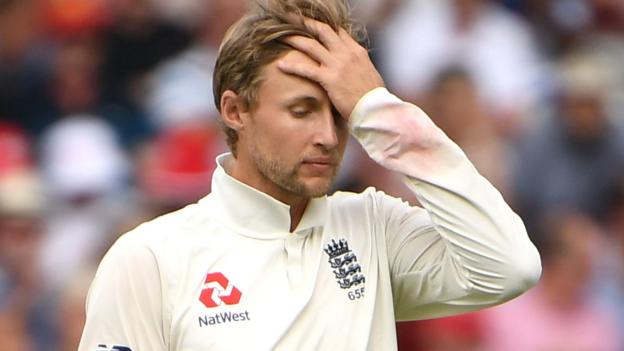 We hoped this England-India Test series would be something special, and it is turning into a cracker.
After England won a thriller at Edgbaston, there was a danger India would surrender following their heavy defeat in the second Test at Lord's.
We thought if the ball nipped around again at Trent Bridge, England would be superior. Remember, Joe Root won the toss in Nottingham and asked India to bat first.
However, India have been resurgent, beating England in their own conditions. The series is alive thanks to an excellent fightback by the visitors.
There was real hostility in India's quick bowling and the slip catching is currently providing a stark contrast between the two sides.
India are in a different league, their cordon slick and athletic. They allow the ball to come to them as if they are saying 'come on, let's have that edge'.
England are dropping catches, or sometimes not even getting a hand on them. You hold your breath every time an India batsman offers a chance.
At Lord's, the India batting was decimated, characterised by a horror shot played by Murali Vijay that resulted in him losing his off stump to James Anderson.
Before there were too many sub-continental leg-side flicks, but at Trent Bridge they collectively made an adjustment to play much straighter.
Virat Kohli has clearly been outstanding throughout the series, but batting is obviously something the rest of the team have talked about and worked on. They have realised batting the way they do at home will get them out in England. It has been an impressive improvement.
The tourists do have an issue over the fitness of off-spinner Ravichandran Ashwin, but there is a week before the fourth Test begins for them to put that right.
England batting averages in the series
Innings
Runs
Highest score
Average
Cook
5
80
29
16.00
Jennings
5
94
42
18.80
Root
5
142
80
28.40
Pope
3
54
28
18.00
Malan
2
28
20
14.00
Bairstow
5
206
93
41.20
Stokes
4
99
62
24.75
Buttler
5
170
106
34.00
They will go to Southampton full of confidence, while England, who had won their previous three Tests, have some questions to answer.
What is frustrating is they are the same questions that have lingered for some time, particularly around the batting line-up, the way they play and their habit of falling in a heap.
Like last year on this ground, when they were heavily beaten by South Africa, England's batsmen cost them the match.
This time, they were blown away in one session and whenever that happens there is no way back.
When England were 62-4 on the fourth morning, it looked like it might happen again, only for Jos Buttler and Ben Stokes to show real fight and discipline. I wrote on Tuesday about what an example they should be for their team-mates.
The manner in which Alastair Cook and Keaton Jennings got out in the second innings is worrying, because they seem to keep edging behind.
Ishant Sharma is all over Cook at the moment. As an old bowler, I know the pleasure you can take from dominating a batsman. You do not let him forget it, either. You might remind him he is your bunny and ask if he's been eating lettuce as he arrives in the middle.
I am actually surprised Cook has not worked it out by now, because Ishant really only has one trick.
He goes round the wicket to the left-handers, angling the ball in, then moving it away slightly off the seam. They are lovely deliveries, but you know what he is going to do. He does not take the ball the other way.
Cook could leave more on length. Ishant is tall and a lot of his deliveries will not actually hit the stumps. If a batsman knows that, it provides a decent starting point from which to play. In this instance, Cook should look to leave as much as possible.
At the other end, is Jennings – in his second stab at Test cricket – looking the part? I'm not sure he is.
The Lancashire man looks stiff, with a front leg that does not go anywhere. He simply plants the front foot and if the ball moves either way there is a chance he will present an edge or be lbw. There is an issue there.
He averages only 20.50 since being brought back into the side, but, now England have taken the step of recalling him, it is probably right they give him an extended run until the end of the series.
Yes, there are issues that have not gone away, but they must be absolutely sure before discarding him again.
Beyond the opening pair, Joe Root played a desperately disappointing shot in the second innings, while I really do not know what Ollie Pope was doing, trying to drive a wide one and getting caught at third slip.
Pope is young, only 20 and playing his second Test, so you have to make allowances, but that was an extraordinary shot and not one of a number four trying to save a Test. I hope he has learned his lesson.
England may have a hole at number five following the broken finger sustained by Jonny Bairstow.
Presumably they will give the gloves to Buttler and call in another batsman. I would be surprised if it is another young or inexperienced player given Pope has only just come into the side.
Moeen Ali is already in the Test squad, has five Test centuries and scored a double hundred for Worcestershire against Yorkshire on Tuesday. He would also give England an off-spinning option if needed.
Jonathan Agnew was talking to BBC Sport's Stephan Shemilt