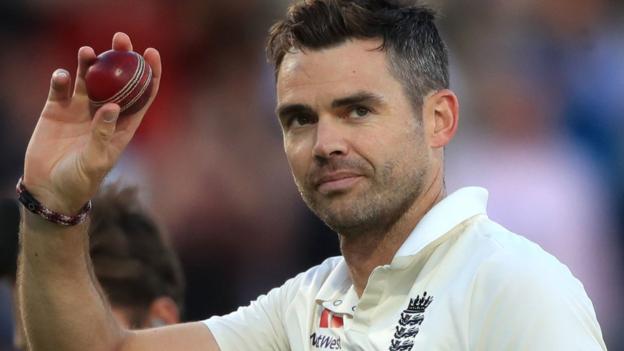 James Anderson says he does not feel his 36 years after his five-wicket haul put England on top on day two of the second Test with India at Lord's.
Following Thursday's washout, Anderson struck in the first over on Friday and finished with 5-20 as England bowled out the tourists for 107.
"I don't feel old, I feel like I can still throw myself around in the field as well as anyone else," he said.
"As long as I feel like that I'm going to keep playing as long as possible."
The Lancastrian, who captured his 26th five-wicket haul, one short of Ian Botham's England Test record, added: "I don't think about numbers or my age, I feel like, I won't say 28, but 32.
"Hopefully the wickets will keep coming as well."
Anderson is England's record Test wicket-taker, with Friday's show of superb swing bowling taking him to 549 Test wickets, only 14 behind Australian great Glenn McGrath.
He produced an initial two-wicket burst as India struggled to 11-2 before the first of several rain delays.
And England, who secured a fine victory in the first Test, exploited conditions that were conducive to swing and seam movement throughout, bowling out India in the final over of the day.
"Some days it hoops round – they've been quite rare actually, the days we've had like that, movement through the air as much as that – but for us, with the experience we've had of bowling on flat decks and the ball doing nothing, when you get the opportunity like that you lick your lips and try to show off your skills," Anderson said.
"To be honest, I think that if we bowled like that today, with those conditions, we'd bowl most teams in the world out – because I think we were that good.
"I think if we were bowling at our batsmen, we'd have the better of them too.
"We exploit those conditions as well as anyone in the world."
Anderson will be on the honours board at Lord's for a sixth time following his five-wicket return and he admitted: "I'd have been so disappointed if I'd messed up today because they were the ideal conditions to bowl in – I find it so much fun when it's like that.
"You don't often get conditions like that in England anymore, when the ball does that much through the air and off the pitch – the biggest thing is not trying to do too much, too many different things, just keep focus, try and bowl good balls and keep hoping they nick them eventually."
Anderson was also full of praise for Warwickshire all-rounder Chris Woakes, who also swung the ball prodigiously to claim 2-19 on his return to the side to deputise for Ben Stokes, who is currently on trial for affray in Bristol.
"He's a world-class performer on his day," Anderson enthused. "We've seen it before, all round the world, one-day cricket, Test match cricket – he's a brilliant bowler, a brilliant all-rounder, and someone who can do a fantastic job for this team.
"We're just delighted for him. First game back can always be tricky, especially when you've got world-class batsmen to come up against – but he handled the task brilliantly."
We were there mentally, insist India
India's batsmen were heavily criticised for frequently playing across the line against the moving ball but Ajinkya Rahane insisted: "You cannot be too harsh on yourself when you get conditions like this.
"You have got to back yourself as a player and team. I felt we were right there mentally, also skill wise. But James Anderson, he was really good.
"If weather permits I'm sure our bowlers will bowl well in the right areas. As I said, cricket is a funny game and we still have to back ourselves and get that positive mindset back."