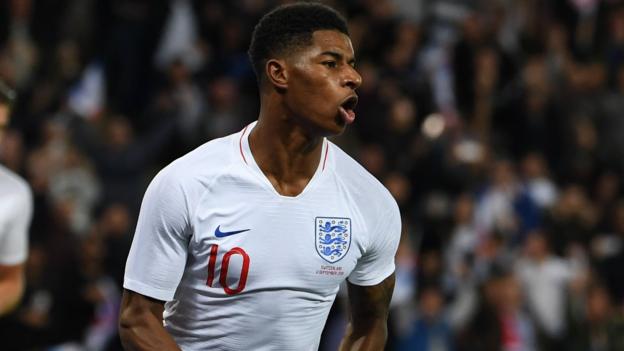 England ended a run of three successive defeats and recovered from the loss to Spain at Wembley with victory over Switzerland at Leicester.
It was, however, an unconvincing England display as a much-changed team scraped a 1-0 win thanks to Marcus Rashford's goal.
So what will manager Gareth Southgate have learned from England's first two games since reaching the World Cup semi-final in Russia?
Rashford piles pressure on Sterling
If Southgate can take one major positive from two subdued England performances amid the post-World Cup afterglow, it is in the performances of Rashford.
Manchester United's 20-year-old forward was a marginal figure at the World Cup, not quite making the most of his chance after he started the final group game against Belgium when he wanted to make an impact.
He has had a mixed opening to the season at United, playing just 122 minutes in all competitions, not starting since the opening game against Leicester and getting sent off for thrusting his head at Phil Bardsley at Burnley.
Freed from any burdens at club level, he was handed a real chance in these two games, especially when Manchester City's Raheem Sterling withdrew from the squad with injury.
Southgate has always retained great faith in Rashford – and he rewarded his manager, seizing his opportunity in the Nations League game against Spain and this friendly at Leicester.
"I am really pleased for Marcus," said Southgate. "We know how exciting he is; he will be a top player. He has a super mentality. Some of his performances have been really good but to finish with two goals is good for him."
Rashford scored in successive games for the first time in his England career and was a threat throughout on each occasion – bringing a world-class save from his United colleague and Spain goalkeeper David de Gea after opening the scoring in the 2-1 defeat with a smart finish. He was also hugely energetic on Tuesday, chasing Swiss defenders down in the closing minutes as they chased the equaliser.
Sterling is very much Southgate's man and any criticism is always viewed through the prism of the amount of work he does, his clever running into space and the opportunities he creates for others.
And no-one can doubt Sterling's ability or attitude.
Where Rashford has now applied pressure to Sterling is in the crucial area of end product.
On the most recent evidence Rashford provides it whereas Sterling has not done so for England for some time.
Rashford has just scored twice in two games. Sterling has not scored for England in his past 26 appearances. Sterling has scored two goals in 44 England appearances; Rashford now has five in 27, with only 11 starts.
Southgate may yet be able to unite the pair in what could be a potent attack, and there is a big place for both in England's future – but make no mistake, Rashford has made a statement in these two games.
Rose & Alexander-Arnold take their chance
The slot on the left side of England's defence is up for grabs since the exclusion of 33-year-old Ashley Young, who was entrusted with the position at the World Cup.
Luke Shaw got his chance at Wembley while Fulham's teenage prodigy Ryan Sessegnon is a player most good judges believe will soon be demanding inclusion in Southgate's senior squad.
Shaw had a mixed night against Spain on Saturday, delivering a pass of rare creativity for Rashford's goal but showing defensive frailty for their equaliser before being substituted early in the second half with a head injury following a collision with Dani Carvajal.
This opened the door for Danny Rose, with Leicester City's Ben Chilwell getting a cameo England debut late on as a reminder of his progress, and the Tottenham defender was another who seized the chance eagerly, doing everything he could to make his case to Southgate.
Rose may be tested more severely by better opposition and there are occasions when he leaves spaces as he rampages into attack – but he was England's stand-out performer here, driving forward with verve even when they struggled in the first half, bringing a near-post save from Switzerland keeper Yann Sommer.
As Southgate ponders who will eventually take that position, Rose has at least put his case forward strongly.
Liverpool's Trent Alexander-Arnold was another who demonstrated his maturity with a composed and energetic display at the King Power Stadium.
The talented 19-year-old is another who faces fierce competition at right-back, with Kieran Trippier the current first choice after his superb World Cup and Kyle Walker another contender – although he is currently being utilised on the right of Southgate's three-man defence.
Alexander-Arnold, however, is visibly growing in stature and looks totally assured in an England shirt. He fully deserved the very warm ovation he received from the crowd when he was replaced by Trippier with 12 minutes remaining.
Southgate has options in that position – but he will have no qualms should he need to call on Alexander-Arnold.
Butland and Loftus-Cheeks miss an opportunity
For the positives, there must sadly be negatives.
And some of those presented with the opportunity to give Southgate a nudge will look back on opportunities missed.
It is a tough step up from struggling with Stoke City, currently 18th in the Championship, to international level and this perhaps showed in moments of ring rustiness from keeper Jack Butland.
He almost got off to a nightmare start when he miscued a clearance right across his own goal then nearly played a part in gifting Switzerland the lead when his careless pass played James Tarkowski into trouble.
Butland made amends with a couple of blocks at his near post, the best from Ricardo Rodriguez, but this undoubtedly talented keeper will know he could have performed better – he certainly did nothing to threaten Jordan Pickford's currently undisputed number one status.
And as Southgate searches for creativity in a cupboard that is currently ominously bare, Chelsea's Ruben Loftus-Cheek would have been hoping to impose himself more on proceedings.
There is a glorious opening in a creative role for some England player, an obvious flaw exposed by the likes of Belgium and Croatia at the World Cup and by Spain at Wembley on Saturday, but this was a subdued performance from the 22-year-old.
Loftus-Cheek's lack of sharpness can be explained by playing only 33 minutes for his club this season – but he still clearly has a lot of work to do to convince Chelsea manager Maurizio Sarri of his worth and that will also have a knock-on effect and consequences for his England career.
And the England verdict…
England's place in the world order was emphasised in these two games against Spain and Switzerland.
The loss to Spain once again exposed their current inability to secure the landmark win against quality opposition that consistently eludes them. The run to the World Cup semi-final was a fine achievement but Southgate will be under no illusion that it has suddenly thrust England into the company of the game's elite.
England have not broken through and show no signs of doing so yet.
It was hard to make any definite judgement against Switzerland as this was an England side with nine changes and a run-out for the under-card. It showed, as it inevitably would.
The verdict is that it is back to reality for England, and Southgate – who will know this as much as anyone – will still have many bumps on the road as he lays out his path towards Euro 2020.
Select your England XI
Have the last two international games altered your opinion on who should start for England?
Use our team selector below to pick your starting XI…