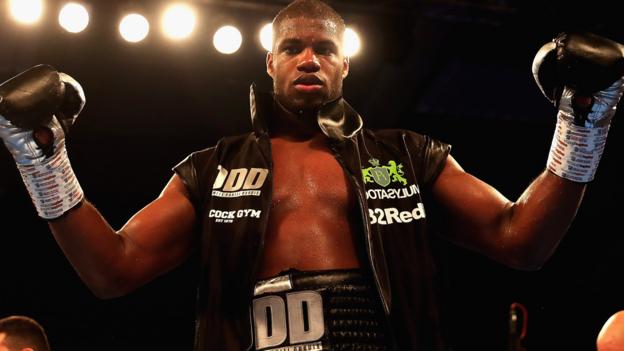 "This is the wild west now, you've got to be a gunslinger."
Daniel Dubois is talking about his switch from the relative comfort zone of amateur boxing to the demands of the professional game.
Billed by some as the next Anthony Joshua, the athleticism of his 6ft 5in frame understandably draws comparisons with the unified heavyweight champion of the world.
GB Boxing bosses thought his talent could blossom at the 2020 Olympic Games in Tokyo but instead this 21-year-old is nine fights into a paid career which promises much.
"Let's learn on the job and learn what goes on in the professional ring and outside of the ring," Dubois tells BBC Sport.
"All of the safety harnesses are gone when you're a pro. This is what I have been working for from the age of eight. So there's no turning back as this is what I've been heading towards as a person."
'Whole chickens from my hero filled me out'
Locals drinking coffee at the prestigious Peacock Gym in London's Canning Town know the Dubois fighting family.
Daniel is one of his father Dave's 11 children. His 17-year-old sister Caroline is a world junior champion currently competing in the Youth Olympics, while teenage brother Prince is clocking up wins on the youth circuit.
All three know the significance of the Peacock. The greats have grafted in this east London boxing hub – Wladimir and Vitali Klitschko, Marco Antonio Barrera, Lennox Lewis, Prince Naseem Hamed, Steve Collins, Ricky Hatton and Chris Eubank.
Floyd Mayweather packed the place out to workout almost a decade ago. The demand to train here even once led to management building a shed – minus planning permission – on the roof to house travelling fighters.
Dubois first felt the energy of the place aged eight, when he watched his father keeping fit at the facility.
"I was brought up with my dad as a single parent from day one," Dubois says. "He was pretty strict, kept me on the straight path. He had a massive impact, made sure I stuck with it.
"He was big into keeping me strong, getting me into fitness. As a kid I was skinny, slim, there wasn't really any muscle on my frame. Then when I was about 16 I started eating a lot.
"My dad and I had a goal to get to heavyweight so around then he started feeding me anything and everything. I'd be on full chickens – it was a heavyweight diet programme.
"I started lifting more weights, doing more physical training with my dad. He'd definitely be my hero. I acknowledge the greats in the ring and they all proved themselves but my dad is at the top of the pile."
'A humble home for a gunslinger'
Watched by trainer Martin Bowers, Dubois spars six rounds, does four on pads and finishes on the heavy bag. His promoter Frank Warren has described him as the best heavyweight he has seen at such a young age. Justifying that sort of hype requires hard work.
Elsewhere in the Peacock, Mark Tibbs – trainer of British heavyweight Dillian Whyte – is coaching, European light-heavyweight champion Anthony Yarde is at work, and signs suggest the gym's two rings are booked solid from 6am to 5pm from Monday to Friday.
Bowers is at the centre of things.
In the early 1970s, while still in his teens, he co-founded an activity centre in the area with a view to helping to reduce crime. It relocated to the back room of pubs where fighters trained in duffle coats to stay warm, before eventually finding its current home in the early 90s.
The gym's ethos is one of inclusion, where management ask that prejudices are left at the door. In Dubois, they potentially boast a future world champion who hopes to embody that spirit, eschewing the trash talk that too often blights his sport.
"I let my fists do the talking in the ring," he says. "That's the way I want to hold myself as a fighter. This is a world full of characters and that's the character I want to be. If the trash talk is avoidable I don't want to go through it."
'I will make it to the top table'
So far Dubois' cool has not been too severely tested, though harder tests are on the way.
After eight straight stoppage wins, his latest opponent – the durable American Kevin Johnson – became the first man to last the distance. Some criticised the British fighter, though Johnson himself said Dubois jabbed harder than Vitali Klitschko, who inflicted the first defeat of his career in 2009.
"I could not get past that jab," said the 39-year-old. "The only flaw he had was he did not work the body."
Many in boxing believe the young fighter will be better for banking 10 rounds under the lights. Developing under the pressure of fight night is key, even for a man who has sparred the likes of WBA, WBO and IBF world heavyweight champion Joshua and Joshua's most recent opponent Alexander Povetkin.
Dubois dreams of headlining Wembley Stadium as his former sparring partners did in September.
"I have to listen to those around me but I definitely want to be challenging the best out there" he says.
"The big events I see are great for boxing but one day I will be a part of that. One day I will be in the mix and bringing my piece to the table."