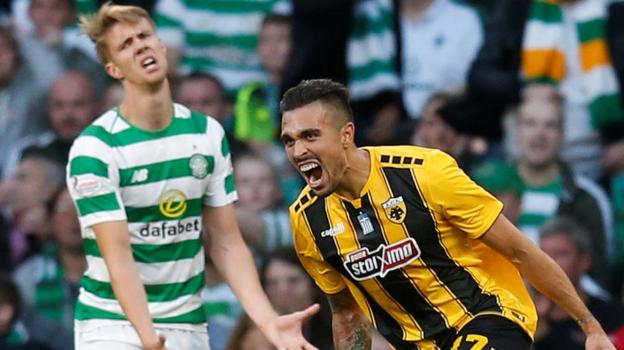 Dominant Celtic will have to score in Greece after being held to a draw by 10-man AEK Athens in the first leg of their Champions League qualifier.
Callum McGregor smashed in the 17th-minute opener from a tight angle, but the Greeks drew level before the break through Viktor Klonaridis' away goal.
Konstantinis Galanopoulos was dismissed after receiving two bookings in seven second-half minutes.
But Celtic could not convert their numerical advantage into a winner.
Olivier Ntcham and substitutes Leigh Griffiths and Scott Sinclair came closest to providing Brendan Rodgers' men with that fillip.
The decisive meeting takes place next Tuesday, and Celtic must find the net to stand a chance of progressing to the play-off round.
Athens tame Celtic's tempo
The work-rate was there. Rodgers got exactly what he wanted on that score but as the game progressed, the visitors learned how to combat Celtic's high tempo.
The Greek champions spent most of the first half repelling wave after wave of attack from a home side who looked increasingly hungry.
Kieran Tierney and McGregor were the architects of everything that was good for Celtic – including the goal. Tierney terrorised right-back Michalis Bakakis and his team-mate provided a special, driven finish.
The message from Rodgers looked clear: overrun Athens in a shock-and-awe show of strength from the first whistle. After the opener it looked like it would work, but AEK refused to buckle.
Their goal was completely avoidable from a Celtic point of view after a number of warnings that a leveller could come. Klonaridis pounced on indecision in the home defence and rifled past Craig Gordon.
It gave Athens the shot in the arm they needed and injected some nerves into the stands of a packed Celtic Park.
Even the dismissal of Galanopoulos failed to dampen the visitors' belief that they could take something from the first leg.
As the clock ticked, they fell deeper and deeper. Forward came Celtic. But frustration grew in home ranks as the tempo of their play began to abate, and chances to utilise their man advantage were squandered.
In the end, it was the perfect defensive display from a side who will fancy their chances in the baking heat of Greece next week.
'Hairline cracks fracture supremacy' – analysis
The warnings had been coming from Rodgers: strengthen or risk faltering before reaching the Champions League group stage. This tie is by no means over but make no mistake, Celtic find themselves in a much more perilous position than most predicted.
Yes, they dominated and at times looked slick and dangerous, but they were up against a side who knew how to frustrate. And frustration is the key word for Rodgers right now.
As a packed Celtic Park celebrated McGregor's opener, Aston Villa were parading the Scottish champions' midfield target John McGinn all over social media. The club's failure to secure his services irked Rodgers enough to go public with his displeasure.
This result will serve as a reminder that if Celtic are serious about being Champions League regulars, they must be more ruthless in the transfer market.
Signing McGinn would have made no difference to the outcome of this match – he could not have played for Celtic until the group stage, should they get there, having featured for Hibernian in Europe already this term.
But the events of the evening provided a worrying metaphor for a club where, after years of solid domination and progress, hairline cracks are beginning to appear.